Neck of the Woods

Friday, July 20, 2018 -

7:00pm

to

9:00pm
Neck of the Woods is a variety performance series that features emerging local artists. An evening may consist of several performance arts acts. Each show is different and may include actors, dancers, musicians, comedians, writers and spoken word artists. Come out and enjoy a truly unique and entertaining event and support your local artists!
A cash bar will be provided for wine, beer and other refreshment purchases.
The July 20 installment of Neck of the Woods will feature Jessica Lang playing guitar and singing folk songs; Pat Tyler singing and playing guitar; Gilly Conklin and Jeffrey Nugent performing a one-act play (A Blooming of Ivy); and story-telling by Drew Bridges.

Jessica Lang
Jessica Lang is a gifted 16 year old singer-songwriter and flatpicker. Growing up listening to bluegrass, folk, and Appalachian music, she was intrigued by Doc Watson and his flatpicking guitar skills. In the past 6 years, this young lady has won awards for guitar, vocals, mandolin, duet, and band ensembles at multiple music festivals throughout the southeast. As the lead singer and guitarist for both the Lang Sisters duet and band, her band took 2nd place in the Got to Be NC Statewide Bluegrass Band competition in May 2017. Her band also performed on the nationally syndicated PBS Song of the Mountains television show in July 2017 and MerleFest in April 2018. Jessica is also an endorsing artist for Preston Thompson Guitar.
Jessica enjoys performing as a solo artist, as well as, duet and band leader for the Lang Sisters. She also serves as the lead guitarist and is a founding member of The Carolina PineCones bluegrass band, and collaborates with a number of talented musicians for special performances.
Jessica hopes to study music in college, and is considering either music therapy, education or performance degree programs.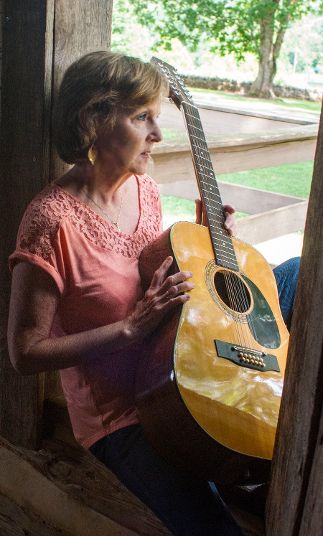 Pat Tyler
Pat Tyler, vocalist and acoustic guitarist, lives in Wake Forest and has been performing for many years. Originally from Suffolk, Virginia, she entertained for various private, civic groups and festivals.
Pat currently entertains at many local venues in the Raleigh and Wake Forest areas as well as Wake Forest Art ArtWalk. She brings a strong collection of acoustic soft rock, folk and country for listeners, performing a variety of 70's, 80's and today's hits.
Gilly Conklin & Jeffrey Nugent - "A Blooming of Ivy"
"A Blooming of Ivy'' is a sweet story about two widowed neighbors who find happiness and love, when they least expect it. We have performed this piece with the Cary Players and at a number of functions in the Raleigh area, including Neck of the Woods in June 2013.

Jeffrey Nugent- 2018 marks my 20th year in theatre in many diverse roles: Actor, Carpenter, Designer, costumes, props, singer/ dancer, Asst. Director ... one of these days I'll decide if I like it! Until then, I'll continue to be grateful for wonderful scene partners, willing theaters, and welcoming audiences. Thank You for supporting our passion and enjoy the show!
Gilly Conklin has been performing for close to 50 years and she will keep doing it until she gets it right! She has acted in drama, comedy and musical theatre and has also performed her one-woman show in the Washington, D.C. area. You may have seen her in Forest Moon's productions of "Helium" and "Agnes of God" or more recently in "Dixie Swim Club" with the Towne Players in Garner.

Drew Bridges
Drew is a retired psychiatrist who has restored himself to his default identity as an English major. He spends his retirement reading, writing books, and creating and telling stories. He lives in WF with his wife Lauren, a psychotherapist who has written a children's book. More about Drew at edrewbridges.com


Tickets