Wake Forest Film Festival
2022 Awards Presentation

The History of the Wake Forest Film Festival
The Wake Forest Film Festival was created from the dreams of three like-minded women with a passion to evoke social change in their community: Cathy Gouge, Wake Forest Renaissance Center for the Arts Manager (2015-2019), Gauri Singh, filmmaker and resident, and Kimberly Soden, Cultural Arts Board member (2018-2020). These women discovered they shared the desire to bring awareness to the fast growing, diverse community of Wake Forest by creating a film festival that would attract independent film artists from across the globe.
After numerous meetings and conversations, festival founders Gouge, Singh, and Soden were joined by other community volunteers and a committee was formed to launch the first Wake Forest Film Festival in 2018. That first festival featured films from across the globe and attracted filmmakers and industry professionals.
The year 2022 marks the third year of the Wake Forest Film Festival that is themed "A Light in the Forest." The two-day festival features 33 films in four categories: student, documentary, horror, and animation. These films shed light on issues and events that impact us all.
Wake Forest welcomes filmmakers and industry professionals from across the United States to share their art of storytelling through the medium of film.
A Light in the Forest
Mark your calendars for a cinematic tour de force! The Third Annual Wake Forest Film Festival is scheduled for Friday-Saturday, March 4-5, 2022, at the Wake Forest Renaissance Centre, 405 S. Brooks St.
Entitled "A Light in the Forest," the Wake Forest Film Festival will spotlight passionate, creative and thought-provoking movies by some of today's most promising and accomplished local, national and international filmmakers. The two-day film showcase will engage audiences with films of all lengths and genres, including short and feature, documentary, horror, animation, and student (high school and college). Intended for both the general public and film professionals, the film festival is an opportunity for filmmakers to showcase their films in a unique location to a discerning audience.


Tickets
Tickets are $15 and go on sale Monday, Nov. 1.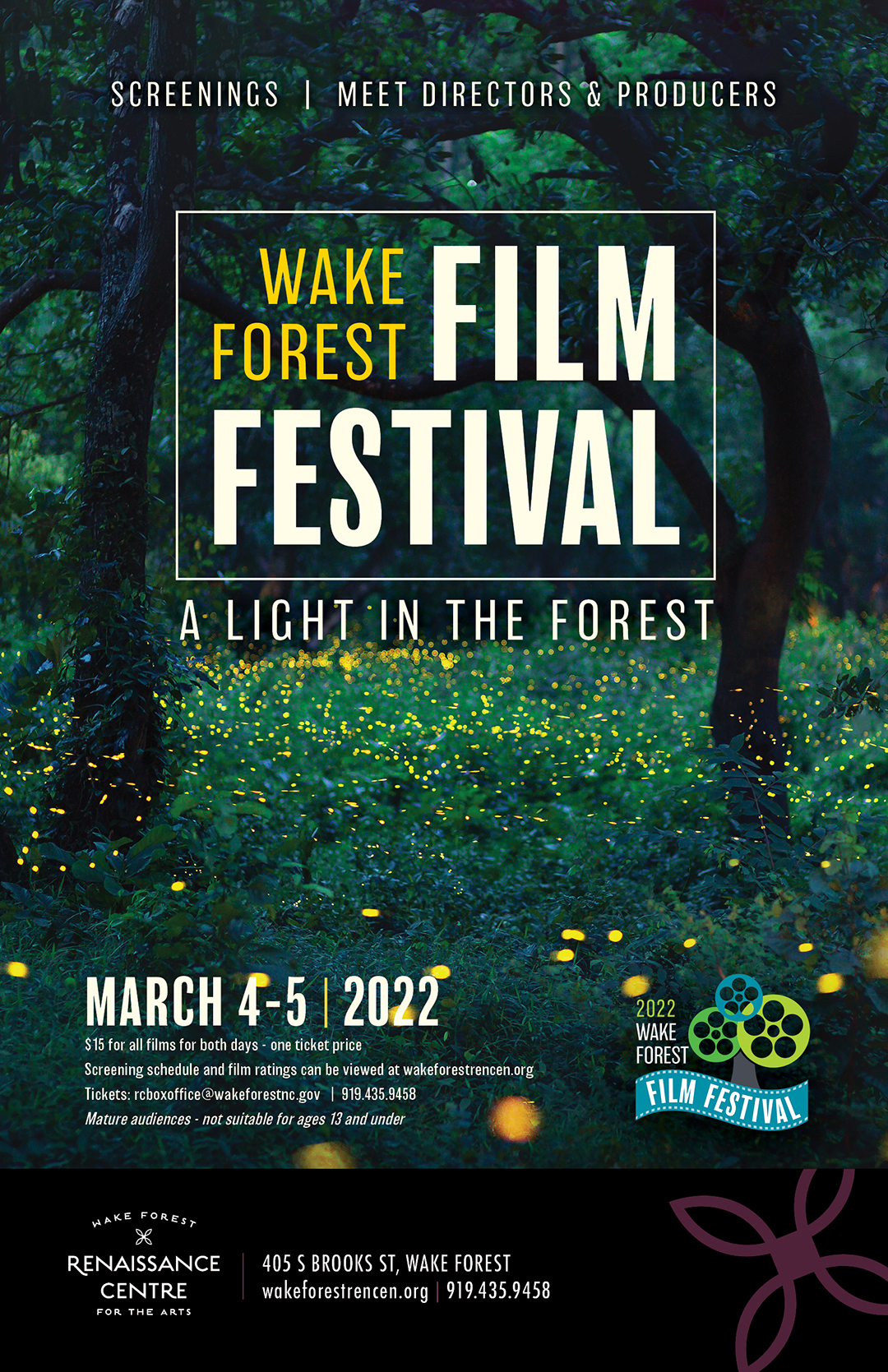 Schedule
Friday, March 4
6-8 pm - Block 1: Student Films
They Are Wolves

Interstate 8

Just Say Yes

You Know His Name

échappé

Lost in the Red Snow

Ruth & Nick: a confectionery tale

8Teen
8-9:30 pm - Block 2: Student Films
Standstill

Take Care

Sideways

Not Just A Name

The Big L
Saturday, March 5
1-3:30 pm - Block 3: Documentary Shorts
A Girl Can Change the World

Short Life of Trouble: The Legend of G.B. Grayson

Becoming Black Lawyers

Pink, White & Blue

The Man of the Trees

The Roots of Lacrosse
4-5:30 pm - Block 4: Documentary Full Length
5:30-6:30 pm - VIP Dinner (Invitation Only)
6:30-8 pm - Block 5: Horror
Birthday Boy

Movie Night

Momma, Don't Go

Spread Among Us

Kill the Cat

Nobodies
8-9 pm - Block 6: Animation
The Lion Herder

Tiger Blanket
Mundance
Rocky Road
Purple
In Our Nature
A Viral Spiral